Our dedicated group of attorneys at Ayo & Iken continue to make a difference in their clients lives on a day-to-day basis tackling the toughest legal situations. It has been a busy time for the firm as the cases we have tackled have run the gamut from dealing with serious child time-sharing issues to fighting for a client unfairly paying alimony. Many of our cases are highly emotional and handled with the utmost compassion and professionalism for our clients. Here is what we have been up to in recent weeks:
Grandparents Rights: Ayo & Iken New Port Richey Attorney Howard Ellzey is working on a case in which a woman tragically died in a vehicle accident and her mother is seeking custody of the children. Grandparents have very few rights to their grandchildren legally in Florida but under a law passed in 2015 that changed some, making death of a parent one possible parameter for visitation or custody. In Ellzey's case, the two children of the woman who passed away have been shuttled between extended family for some time in an unstable living environment. The children have two different fathers – one of which is in jail. The grandmother of the children and the father of one together are seeking custody of the children to provide a more stable lifestyle. "Statutorily, the only people who have the rights to these children are the grandmother and biological father. He wants to join in our petition because he too is being kept from seeing his child. So I think we have a very compelling case."
A Father and His Daughter: Ayo & Iken Tampa Attorney Jeana Vogel has been working hard on a case to re-unite a father with his daughter, who he has not seen since 2016. The teenage daughter went to visit her mother in another state two years ago while the father had custody in Florida and the daughter never came back. Accusations were made that the daughter had been cutting herself and discussing suicide because she did not want to return to the father. Then communication with Vogel's client was cut off, leading to filing a case in Florida to try to bring the child back. There is substantial evidence such as photos that show no cutting injuries to the child and warm text messages between father and daughter before all communication ceased. Vogel has now sought to bring a guardian ad litem and a re-unifications specialist into the case to investigate the claims. "It's very sad. Here we have a father who wants to see his child and cannot due to what appears to be unsubstantiated claims being made in another state."
Relocating a Child: Ayo & Iken Tampa Attorney Lee Feinberg is also enlisting an expert in a difficult case involving a client who wishes to move with her child to another state, where she contends she can provide a better living situation for them both. Feinberg said a relocation expert is extremely valuable for courts to determine what is in the best interest of the minor children and a parent looking to relocate. Some of the things a relocation expert will consider include schooling opportunities for a child, wages in an area, cost of living, and cultural opportunities. The courts are also very interested if there is extended family that can provide a support system in an area where someone wishes to move. "Relocation is not an easy thing to obtain. Basically, you are asking a judge to move a child away from a parent. That's a very high standard. It's not granted easily and that's why relocations without experts are a little hard to come by," Feinberg said.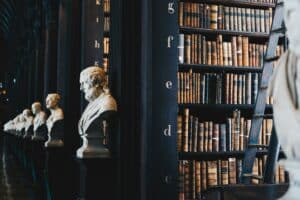 Request a Free Consultation
Child Time-Sharing: New Port Richey Attorney Bruce Przepis is representing a client in a case where her ex-husband is asking for peculiar living quarters for their son when the father has court-ordered time with the teenager. The former husband recently moved from his residence to a 55 and older mobile home community, so his son cannot live in the home. So what the father wants is to allow his son to stay with friends in the area who are in their 20s. "Obviously, my client says she does not want her teenage son to be supervised by 20-year-olds. You can imagine the kind of trouble the teenager could get into if he doesn't have good parental supervision. So we are going to go back to a judge to see about setting some parameters. The child has two parents and those are the two people who should be looking after him when they are spending time with him," Przepis said.
An Alimony Trial: Ayo & Iken Orlando Attorney Jason Ponder took to the courtroom recently to represent his client at trial in trying to terminate his alimony amid evidence his wife is living with another individual and has been doing so for four years. Ponder unearthed evidence showing that co-habitation exists which can be grounds for an alimony modification or even termination. Ponder found several major monetary transactions over the years that benefitted both the former wife and her new partner, including going on vacations together and paying for repairs to their home. They are also both registered as voters at the same address and vehicle registrations are also listed at the same address. "In seeking to prove co-habitation, you are trying to prove a couple is doing everything a husband and wife do without the title. So the evidence is the key – you look at bank accounts and dive into what they are spending their money on," Ponder said. "For instance, I have one person in this relationship paying the other $8,700 for repair of a roof. Those types of things are relevant if someone is telling a judge that a relationship does not meet the standard of co-habitation, but the couple's actions do not jive."
Fallout from a New Law: Our Ayo & Iken Attorneys are starting to get inquiries from the public regarding a new child support law that passed in 2017. The law added language to statutes governing the handling of child support by the Florida Department of Revenue. Now when people meet with the revenue department to set up their child support per his or her Title IV-D order, they are presented with an optional child visitation plan for unmarried parents. If both parents approve of entering into the voluntary plan, completing child time-sharing plans through circuit courts and its associated fees are bypassed.
ARVE Random Video Error: No videos found
In most cases – if a child is older than three and the parents live within 100 miles of each other – the visitation plan is for the parent who owes child support to have parenting time with the child every other weekend, one evening per week, every other Thanksgiving break, part of each winter break, every other Spring break, and two weeks during the summer. But the stock parenting plans are raising concern for some of our attorneys. Ayo & Iken Orlando Attorney Beth Clause said she would be wary of signing anything without an attorney taking a look. "People need to be careful what they are doing. There are a lot things absent in these plans, such as who is going to be on the emergency contact list at a child's school? These are important issues that come up," Clause said. "I am also concerned about oversight as to whether a person is even fit to be given this time-sharing. If a parent wants to exercise his or her rights, he or she should have those rights validated by the court."
Going Pro Se?: All too often people attempt to represent themselves in their case, a practice known as going "Pro Se". Not a good move, Ayo & Iken St. Petersburg Attorney Blackwell said, after a client who previously went Pro Se retained her to help with a case where pressure had mounted to sign documents.
"It is so important to have an attorney, especially when the other side has one. We definitely see people taken advantage of who try to represent themselves. It could be to your detriment if you sign something such as a marital settlement that could turn out to be completely unfair," Blackwell said.
Don't Let the State Decide for You: Ayo & Iken Orlando Attorney Jennifer Schulte recently had a divorce case during which her client received notice from the Department of Revenue regarding changes to his child support. Unfortunately, the client failed to inform his attorney of the notice and ignored it. That, however, does not stop the state from proceeding, and without the payer's input, his child support leapt from $200-a-month to $1,400 along with $30,000 in arrears owed. It was a devastating shock that could have been avoided as Schulte's client was already involved in an active divorce, so the child support case could have been halted until resolution of the divorce. That is why communication with your attorney on all matters concerning your divorce and children is vital. "The worst thing you can ever do is ignore something when it comes to the law, most definitely when it comes to child support," Schulte said.
Co-Parenting After an Ugly Divorce: Ayo & Iken Tampa Attorney Jeana Vogel has seen her share of difficult cases, especially ones involving children. But there is hope, she said, in cases where animosity between parties is high and children are involved. "I have seen parents who I thought did not have a chance of communicating effectively and actually turning things around. After the storm passes and the dust settles, it is amazing how the little things are no longer an issue because what fuels initial hostility between the parties is often animosity over a breakup. Once that settles, when you take out the hostile tone and the negative degrading words, it's amazing how communication changes. So I definitely think there is hope when it appears there is none for a healthy co-parenting situation."
Communication is Key: "To me it's amazing that I have so many cases where the two sides cannot communicate. They just cannot talk. I never get that," Ayo & Iken New Port Richey Attorney Bruce Przepis said. "It's absolutely horrible because then they are forced to go to court. And I can't remember a judge who doesn't get very upset when he or she realizes that two people cannot talk to one another. So the judge is forced to make a decision and inevitably both sides walk away unhappy. If they just put aside the swords for a while, the chances are so much better for a settlement. Short of that, so many times I walk out into the hallway after a hearing and both parties are unhappy." If the acrimony in a divorce gets so bad, Przepis recommends possibly using a program such as "Talking Parents", which is an email exchange system that keeps records of communication between parties regarding things like childcare. Many times using the program is court-ordered and judges can access the communication between parties. "I find it works very well. People tend to behave more respectfully when they know a judge is watching."