Florida 10 20 Life Law
was last modified:
May 7th, 2018
by
10-20-Life Law in Florida
The Florida criminal justice system is one of the strictest in the nation.   Not only does Florida have some of the toughest drug laws in the U.S., they also have extremely harsh laws related to crimes involving firearms and other types of weapons.  In an effort to
address the growing number of gun-related crimes within the State, the Florida Legislature enacted the 10-20-Life Law.   Specifically, this allows Florida law enforcement to take a zero tolerance approach towards anyone in "actual" possession of a firearm while committing or attempting to commit a criminal offense.  In other words, if a person pulls out or "brandishes" a gun during the commission of any of the following offenses, they will be punished to the fullest extent of the law:
Murder
Arson
Battery
Aggravated battery
Aggravated child abuse

Aggravated abuse of an elderly or disabled person
Burglary
Assault/Aggravated assault
Felony possession of a firearm
Drug possession
Drug trafficking
Possession of a firearm by a felon
Sexual battery
Kidnapping
Aggravated piracy
Aggravated stalking
Carjacking
Home invasions
Should an individual face conviction for committing any of the above crimes, a judge can impose an extremely harsh punishment pursuant to the 10-20 Life Law.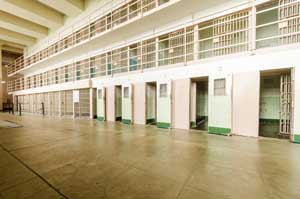 Specifically, for a felon caught possessing a firearm or other type of weapon, they can be sentenced to three years in prison.  Moreover, just by pulling out a weapon during a crime, or using a weapon to intimidate victims, a judge can automatically impose a ten year minimum sentence upon the offender.  For certain attempted or completed felonies, a judge is authorized to issue a ten year mandatory sentence if the person was armed with a gun or other type of destructive device.   If a weapon was discharged during the commission of any of the above crimes, a twenty year mandatory minimum sentence can be imposed.  Florida's 10-20-Life Law further authorizes a judge to sentence a person to fifteen years in prison should they be convicted of any of the above crimes while in possession of a semiautomatic weapon.  Should a person become injured or killed during the commission of any of the above-enumerated felonies, a Florida judge can institute a mandatory minimum sentence, ranging anywhere from 25 years to life in prison.  Overall, it is important to realize that a judge must impose the minimum sentence in able of the above scenarios, despite the existence of significant mitigating circumstances.
In sum, the 10-20 Life law imposes the following sentences:
Felons in possession of a firearm – 3 years
Pulling out or brandishing a weapon during the commission of an enumerated crime – 10 years
Committing a crime while in possession of a semiautomatic weapon – 15 years
Discharging a weapon during the commission of an enumerated crime – 20 years
Discharging and injuring or killing a person during the commission of an enumerated crime – 25 years to life
In light of the above, it is important to consult with an attorney who understands the complexities associated with being convicted under the 10-20 Life Law.  That is why it is crucial to work with a Florida criminal defense attorney who will aggressively challenge the charges you are facing and counteract the attempts of the legal system to unjustly put you behind bars.
For more information on the above, or if you are facing potential conviction under Florida's 10-20 Life Law, call the Clearwater law firm of Ayo and Iken now to schedule your free and completely confidential initial consultation at 1-800-469-3486 or feel free to email us.  We provide superior legal representation to clients located throughout the Orlando, Tampa, Clearwater, Lakeland, Wesley Chapel and New Port Richey areas.

Free Consultation is limited to individuals considering hiring an attorney. Not all situations qualify. Fee charged for appellate case evaluations.
Or email message to:

Our Attorneys Are Ready to Fight for You!
Over the past 14 years Ayo & Iken has helped over 5,000 people just like you
More Reading: Criminal defense overview, Hiring a criminal defense attorney, Steps in a criminal case, Getting records expunged, Criminal case myths, Police interrogations, Sexual assault charges, Florida 10 20 life law, Criminal convictions for non citizens, How bail bonds work, What happens after a drug possession arrest, Don't talk to police, Drug arrests and suppression hearings, Drugs and police requests, Dui laws overview, Your first dui offense, Refusing to take breathalyzer, Underage drinking and driving, Dui myths, Reckless driving, Criminal justice guide, Constitutional resources