Video Transcript:
Tom Lemons: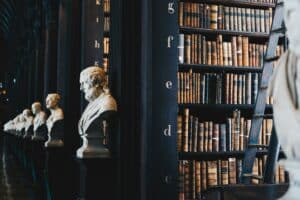 Request a Free Consultation
Until recently, family law cases involving same sex couples was a complex
area of practice, not only for the client but for attorneys and judges alike.
Today we have an Ayo & Iken attorney, Jason, who specializes in same sex
divorce and custody cases and he'll give us some insight into how the courts
are becoming more familiar with the LGBTQ community. Jason is also passionate
about legal history, so we'll talk about the differences in common and civil
law, as well as other judicial systems around the world. I'm Tom lemons and
this is the Ayo and Iken Report.
Tom Lemons:
Jason, welcome to the Ayo & Iken Report.
Jason:
Thanks Tom. Thanks for having me.
Tom Lemons:
Yeah, you're welcome. All right, so you have a background in working in the
LGBT community.
Jason:
Yes.
Tom Lemons:
Tell us a little bit about how you got into that and what kinds of things
should we be aware of with working in the legal field of same sex marriages?
Jason:
Sure, sure. I started my involvement with the community when I was going
through my own personal coming out experience in law school. And during that
period I joined a number of public service organizations dedicated to helping
the LGBT community. When I got out of law school in 1996, I opened my own
practice and the very first case I handled involved in a lesbian plaintiff in a
case up in the panhandle. And so I was immediately drawn into doing practical
work for the community.
Tom
Lemons:
Right, right. So that was your… And you just said it was your very first
case, so that had to be a real kind of stressful for you to be the very first
thing you work on right out of school, right?
Jason:
Yeah, it was, I mean literally I had just gotten the license two days before
when I got the call from a public service organization that had asked me to
help this individual and I kind of demurred. I was, "Well maybe you want to get
someone a little bit more experienced and distinguished the me." And they're
like, "Nope, we're confident in your abilities." And that's where it all
started.
Tom
Lemons:
Right. And you were saying that this is something that most attorneys don't
see in their career over the lifetime of doing an appeal in their first case
file.
Jason:
No, most attorneys they end up… They'll see an appeal much further down the
road and literally I was tossed into it within a matter of days.
Tom
Lemons:
Wow. Okay. And so tell us a little bit about any laws that have changed
recently that may affect same sex marriages in getting married and also as it
may turn into a divorce or some type of a custody battle.
Jason:
Sure, sure. I think the main change was the Supreme Court's decision in
Obergefell in 2015 and what that did was it basically leveled the playing field
and made both same sex and opposite sex couples subject to exactly the same
rules. I mean previously it was kind of both the same sex partners and the
courts were kind of fumbling around trying to determine what laws applied to
familial relations. Because a) certainly they were not sanctioned by the state
and b) because many of the situations were unique, the courts had to kind of
search and kind of muddle its way through.
Tom
Lemons:
Right, right. And so what are some of the nuances that a judge, an attorney,
or even the client should know when things fall apart and they find themselves
in a courtroom?
Jason:
Well, I mean, one, among other things is the fact that LGBT families are
often different in their constitution. It is very common, for example, that one
of the partners will be raising children from another relationship. And the
question then becomes how does that person's partner factor in when it comes to
timesharing with the children and legal obligations when the marriage breaks
down. That's probably the most common situation that the courts are dealing
with. I mean, with things like property division and equitable distribution,
those follow roughly the same rules as it would with opposite sex couples.
Tom
Lemons:
So at this time it's really kind of becoming more standard almost, in a
sense they're same as with a heterosexual marriage, right?
Jason:
It's similar but not the same. I think that there are a lot of different
factors. I mean, again, I think that the LGBT community was denied legal
recognition for so long that now that it's there, I think, people who were
involved in same sex marriages are now discovering what the marriage actually
means. I mean, before it was just kind of a monolith that existed in the
culture and now they're discovering that, you know, unlike before their
relationships, now, there are legal consequences to being married and in a
relationship.
Tom
Lemons:
Right. Okay. So I recently found out that Jason is a real history buff,
isn't that right, Jason?
Jason:
Yes, I was a history major in college and I'm kind of a bit of an amateur
historian, particularly when it comes to legal history. I'm always fascinated
with discovering the origin of the laws that affect us today and I don't really
think you can understand them without knowing that history.
Tom
Lemons:
Right. And you were talking about the difference between civil and common
law, right? Isn't that… What is the United States, how we govern our laws, and
what is it abroad. Some differences in the [inaudible 00:05:40]?
Jason:
Sure. The US is a common law system. Basically every country that was an
English colony is a common law system and draws its history from English common
law. And what it means generally is that our legal precedents are derived
decisions by judges usually on the appellate level. So yes, while we have
written laws and statutes, it's the interpretation of those laws and statutes
by judges that we rely upon in conducting ourselves in the future. Civil law
systems generally arose originally from Roman times. Generally it is a
situation where the interpretation of laws comes from the reading of the laws
themselves and there is less involvement with judge made decisions, while
judges are called upon to interpret them in individual contexts those rulings
are not necessarily precedential on those issues.
Tom
Lemons:
Right. So I did a little research on my own and I saw a lot of different,
I'd say, terms used to describe different types of laws around the world. And
one of my found was one called statutory law, is that similar to what you're
trying to say as far as how some European countries…
Jason:
Well generally, I mean, statutory law I guess defined means all written
laws. I mean, generally there are various different kinds of law, there are
statutes, there are rules, et cetera. But statutory law as a general category
are the written laws that we rely upon.
Tom
Lemons:
Okay. And then one of the most intriguing one is something they do in
socialist countries, which is called, well they call it socialist law. So have
you done any investigating into that? Do you know much about that?
Jason:
Well, what's interesting is I found in countries with the socialist and
communist systems, if you actually read the laws themselves… For example, if
you look at at the old Soviet system, they had laws on the books protecting the
freedom of speech, the freedom of the press, very similar to the ones we had.
The question was is whether the courts would enforce them, the answer was
generally they didn't. A lot of country… When you're thinking of social
democracies like Scandinavia, things like that, they have standard civil law
systems, they're very similar to the civil law systems that exist everywhere
else in the world. When you're talking about countries that are dictatorships,
autocracies, other oppressive systems, generally the laws that they have on the
books are quite expansive and they offer a great degree of rights. However,
those rights are generally meaningless unless there is a body of judges to
enforce them and that's where the problem lies.
Jason:
Because generally in many of these countries, when someone is charged with a
crime, the outcome has already been pretty much decided. And the procedure to
getting to that point, unfortunately, it's very… It's giving lip service.
Tom
Lemons:
So it's really, there's really not a… They may say there's some due process,
but it's not really like it is here in the United States, right?
Jason:
Generally not. I mean I think that…. I mean, I don't mean to sound biased,
but I think that in modern European societies and the US, I think that there is
a high level of due process given. With countries in the developing world and
countries under more oppressive legal systems, not so much.
Tom
Lemons:
Okay. Yeah, that's what I assumed. Now something that I know you're
interested in and you work with often, is the religious aspect of law.
Jason:
Yes.
Tom
Lemons:
And you've dealt with some cases where maybe there's a marriage that
happens, in let's say Israel or something, and they come to the United States
and they decide to get divorced or there's a custody… Tell us a little bit….
That was very interesting, so tell us a little bit about that.
Jason:
It's very interesting, Israel in particular, I've done a number of cases
involving Israeli litigants. And in Israel, Israel has a very, very advanced
civil justice system. However, certain areas of law have been basically
delegated to religious authorities. And one of the more prevalent areas is
family law. In Israel, Jews, regardless of whether or not they are practicing
or they believe in the religion, are required to go before a rabbinical court
when it comes to divorcing. So there is no civil system like ours is, I mean
our system operates regardless of ethnicity, race, sexual orientation,
religion, anything else. Whereas in Israel with Jewish divorce, there is a
specific court that's set aside. The question often arises when Israeli couples
come here is to what extent the proceedings of a rabbinical court would be
recognized or enforced by a American court. And the problem with that is
obviously under our first amendment, the court cannot favor any religion and
problems often arise where to enforce certain etiquettes of a religious court
in Israel would result in an unconstitutional act here. For example, a court in
Israel may say that the children must be raised in a certain way or in a
certain religion or must attend a certain school. A court in the United States
cannot enforce that because to do so it would be an unconstitutional
entanglement with religion.
Tom
Lemons:
Sure. And that's… You know, that leads me to another question. We had talked
about tribal law, is that… That's not really how the Israeli system works. What
would you call this judicial system here.
Jason:
I mean, again, they are a very advanced civil law system with exceptions
and… I mean, now there are religious courts that exist in Europe and the United
States, for example, Canon law systems, the Catholic church has a legal arm,
the Anglican church in England does as well. But the point is those usually
involve affairs that are specific to the church themselves. Whereas in Israel
with a rabbinical divorce that involves the populous in general and it isn't
necessarily restricted to affairs of the religion.
Tom
Lemons:
So that must be common and it's caused a lot of challenges, especially for
someone like you who's working in, let's say, a divorce or a child custody
issue. That's got to be a real challenge when you get cases like that.
Jason:
Oh it is. It is and I used to work in South Florida where there are a lot of
expatriate Israelis who live there, or come to live there, and it becomes an
issue when family law matters arise'.
Tom
Lemons:
Interesting.
Jason:
Also, there is a question oftentimes, is that Israeli courts believe that
they have jurisdiction over Israeli citizens, whereas in Florida, any one of
any origin who's lived in Florida for at least six months is entitled to bring
action in the family courts here. So there's often a clash of jurisdictions as
well.
Tom
Lemons:
Wow. So you know, Jason works here at the Ayo & Iken law firm and he is
one of about 18 or 20 attorneys we have now, we're growing every day.
Tom
Lemons:
We're one of the largest family law firms in Florida. So if you are looking
for an attorney and especially if it's a divorce or custody issue and you
happen to be in the same sex marriage that's… You know, he would be probably
the prime person to contact here at the Ayo & Iken. What would you tell our
viewers, anything you want to tell him about your personal practice and how you
could help them, how you could help a potential client.
Jason:
I mean, I approach family law in both a legal sense and a holistic sense
because I recognize that any lawyer can be a vigorous advocate and can know
every law in the book and can be your advocate for your issues. However, if you
don't have, I think the experience with dealing with the type of clients that
you have, or you're not familiar with certain family structures or customs, it
can make the representation less than entirely effective. I think that my
experience, not only at practicing within the LGBT community, but being a
member of that community itself, I think it gives me a fairly unique viewpoint
when dealing with cases like this. Also, there comes a point where the courts
need to be educated about the these issues and I think that that allows me to
do that as well, too.
Tom Lemons:
Well, I imagine to go to the judges, have probably been on the bench, most
of them been on the bench for quite a few years, even before these new laws
have passed. So they really do have to be educated on some of these things.
Jason:
They do. And, again, no matter how you slice it, it's always going to be the
less frequent family structure you're going to see. So they need to have that
information presented to them in a easily understood way.
Tom
Lemons:
Absolutely. Well, Jason, thank you so much for coming on.
Jason:
And thank you Tom. I appreciate it.
Tom
Lemons:
Hope you'll come back again.
Jason:
Absolutely.
Tom
Lemons:
Right. Thank you.