Get to Know Me
Howard Iken:
A visit to the office of Attorney Claudia Blackwell. Although Ms. Blackwell's home base is in the Plaza Tower in downtown St. Petersburg, she helps clients in all counties throughout Florida. A quick talk with Ms. Blackwell on how she practices, what value she provides to clients and a general insight into her personality, professionalism, and charm.
Video Transcript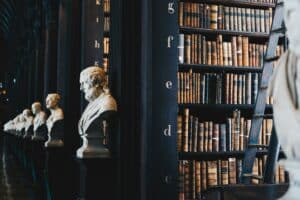 Request a Free Consultation
Howard Iken:
Well, good afternoon. You're Claudia Blackwell, aren't you?
Claudia Blackwell:
Yes, I am.
Howard Iken:
And what's your role at Ayo and Iken?
Claudia Blackwell:
I'm an attorney at Ayo and Iken. And I-
Howard Iken:
Where do you practice out of normally?
Claudia Blackwell:
In St. Petersburg, Florida.
Howard Iken:
Okay. Have you been in that location for a while?
Claudia Blackwell:
I've been in this location for about seven years, but I do handle cases in other areas also, including New Port Richey, Tampa, Sarasota.
Howard Iken:
How long have you been an attorney?
Claudia Blackwell:
I have been an attorney since 1995, April of 1995.
Howard Iken:
That seems like a really long time. I assume you like it.
Claudia Blackwell:
Yes, I do. I definitely do. I do marital and family law, and that's what I like doing, and so I'm continuing to do that.
Howard Iken:
What do you like about it?
Claudia Blackwell:
Well, definitely dealing with people because I always say that I have, "Tell me your life story" written on my forehead because I feel like I'm very genuinely interested in what people have to say. And you find out about their life stories. In marital and family law, you definitely delve into all of that.
Howard Iken:
Has it ever even crossed your mind to quit family law?
Claudia Blackwell:
No. Yes. They always say that family law, it takes a unique person to do family law because it's obviously really good people going through a difficult time in their lives. And so I'm sure there have been times where I'm like, "Oh my goodness, why am I in this?" But no, overall it's rewarding. It definitely is. You feel like you are helping people at the end.
Howard Iken:
What value do you bring to the table for your clients?
Claudia Blackwell:
I definitely value, I think, of knowledge, obviously doing marital and family law for quite a few years. As to the ins and out of marital family law, you would think it's just a divorce, but there are a lot of other things that come into play. There may be a need for a psychological evaluation of one of the parties. It could be where a parenting coordinator needs to get involved because the parties cannot get along with each other. There's a situation where you need a forensic CPA. So these all combined and help move a case forward and help obviously your client and being an advocate for your client to find the best route to go when you're dealing in this litigation process. So even though the judge makes the ultimate decision, you have a lot of avenues and a lot of resources to help your client and try to get their position across and obviously make a good determination for the family.
Howard Iken:
Do family law attorneys work hard?
Claudia Blackwell:
Yes, they do. They do.
Howard Iken:
How hard? How hard is it? Really, because most people think you just sit back and use a few words and the cash rolls in in huge amounts. Is there truth to that?
Claudia Blackwell:
No, there's not the truth to that. It is really hard work, not only starting from the pleadings in order to make sure that if it's a dissolution, that your petition for dissolution and other relief is exactly how the client wants it and how you have to present all of the issues in your initial petition. So from the pleadings, and I mean drafting of petitions, motions, preparing for a mediation, preparing for hearings, preparing for trial, these are things that take a… It's very time-consuming. And it's very important that you make sure, like I was saying before about being organized because you have to be organized in order to be a good advocate for your client.
Howard Iken:
How much stress is involved with representing clients?
Claudia Blackwell:
There's stress involved too because you do-
Howard Iken:
For both you and the client?
Claudia Blackwell:
Yes, for both you and the client. Because I really do wish well for my clients. I really do. You do get involved in the case because especially if it's a case that's going to go to trial, then usually you've been involved in that case for about a year to a year and a half until you finally have the final judgment. So it's a long process. So you get involved with your clients so you do want the best for them and what's going to be the best outcome for them and their family.
Howard Iken:
There's a couple of things you'd like clients or potential clients to know about you. What do you think is the most important for them to know?
Claudia Blackwell:
That I care about my clients. That I am very organized and prepared. And when I go in there representing someone, especially obviously in the courtroom, I'm an advocate for them. And that means to make sure that I'm well-prepared and I know the issues of the case, I know the issues of what we're litigating at that particular time and just be knowledgeable about everything that you can about this case. Really in organization I find that to be very important, and that's critical to who I am, being organized.
potentially impact child support, you should speak to your Ayo and Iken attorney immediately.
Call us at 844-598-2036 or fill out our confidential contact form to schedule an initial consultation.