FLORIDA – When the matrimonial bond is broken beyond repair, and couples find themselves standing on opposite sides of a courtroom, parties often find out the hard way that a judge's ruling isn't always as predictable as they may assume. Whether it's a decision on child custody, time-sharing, equitable distribution, or financial support, a plethora of factors are considered before the final chapter in the life of "Mr. and Mrs." can come to an end.
Not everyone is smiling when the gavel strikes the sound block, but in some cases, the losing party may have a valid argument that a trial judge erred in the final ruling. In that case, a complainant may request a rehearing or have the case forwarded to a district court of appeal for a review of the decision.
Filing an appeal is often a misunderstood concept. An appeal is not a second bite at the apple or chance to rehear the facts of a particular case; rather, it's a review of a lower court's decision to determine if harmful legal errors have occurred that may warrant a reversal. Ayo & Iken attorney Jason Coupal is an experienced appellate attorney who has handled cases in all five Florida District Courts of Appeal, the Florida Supreme Court, the United States Eleventh Circuit Court of Appeals, and even represented a client before the United States Supreme Court.
Coupal recently presented an oral argument in front of the Second District Court of Appeal, where he represented a Pasco County woman who was denied permanent alimony by Sixth Judicial Circuit Judge Alicia Polk. Coupal argues that Judge Polk erred in her decision by not following Florida Statute 61.08 that reads: For purposes of determining alimony, there is a rebuttable presumption that a short-term marriage is a marriage having a duration of fewer than 7 years, a moderate-term marriage is a marriage having a duration of greater than 7 years but less than 17 years, and long-term marriage is a marriage having a duration of 17 years or greater. The length of a marriage is the period of time from the date of marriage until the date of filing of an action for dissolution of marriage. Coupal's client was married for 23 years and made substantially less than her former husband. You can watch the entire virtual hearing by clicking Second DCA Oral Argument.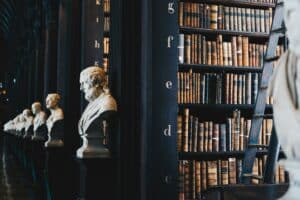 Request a Free Consultation
Coupal says a lot of preparation goes into filing an appeal; they are costly, and can take months to complete the process. Even then, the odds of prevailing in the appellate court is only about 20%, according to Coupal. The first step in filing an appeal is to submit a notice within 30 days of the lower court's decision. An attorney must then submit an appellate brief that describes the alleged error and then allow the opposing attorney time to submit an answer. The appellate court will then decide if an appeal warrants oral argument, which isn't always the case. If oral argument is granted, each attorney is allowed up to 20 minutes with the right to set aside a portion of his/her time for rebuttal.
Coupal argues that courtroom etiquette is extremely important when addressing a higher court. Whether extemporaneous or rehearsed, the phrase "may it please the court" is a "required" introduction used by attorneys at the onset of their oral argument. The precept first became popular in the 15th century and has been used by playwrights, authors, and poets throughout history. The idiom made its way to America around the 17th century and has remained part of the originating English Common Law decorum ever since. Addressing the court in this manner may have no direct bearing on a judge's decision, but Coupal leaves nothing to chance when representing his clients.
An appellate court can take weeks to decide if a lower court's ruling will be reversed or affirmed. In some cases, an appellate court may issue a PCA, or per curiam affirmed, meaning without written opinion. This is something attorneys find exasperating, as it prevents the appellant from seeking further review by the Florida Supreme Court.